JCB ALMATY
On September 7, 2019, the exclusive dealer of one of the world's largest manufacturers of JCB construction machinery – Autodom Machinery, a part of Orbis Machinery, opened the first JCB center built with its own investment in Kazakhstan.
JCB Almaty dealer center received the 3S category – Sale of equipment, Service and Spare parts, and today it represents the widest range of special equipment of one of the world's leading manufacturers on the market. We are fully ready to provide the highest level of service.
JCB Almaty is located on an area of 1000 square meters. The center is equipped with three service posts, has a spacious showroom and modern equipment for complete diagnostics and repair of the entire JCB product line.
In addition to that, JCB 3S dealer center supports a one-year warranty from the manufacturer, excluding machine hours.
Product Line:
• Backhoe loaders
• Crawler excavators
• Wheeled excavators
• Telescopic loaders
• Front Wheel loaders
• Mini Excavators
• Mini-loaders with side turn
• Industrial Forklifts
• Sealing equipment
• Attachments
• Manual hydraulic tools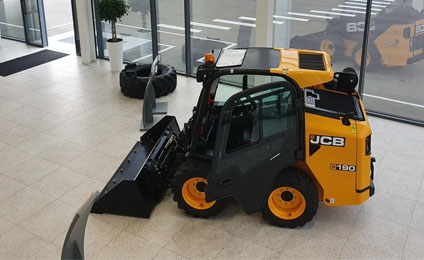 Contacts
Almaty, Kuldzhinsky tract, 26/2
+7 (727) 310-00-01
http://jcb-kz.com/
info@jcb-kz.com
After-sales service
In accordance with the manufacturer's regulations, JCB Almaty guarantees its customers the highest level of service support 24/7.
All service specialists regularly undergo training and internships, have high qualifications and extensive experience in the field of service maintenance. Round-the-clock maintenance of equipment is provided by mobile teams of highly qualified service engineers.