JCB BISHKEK
On June 15, 2019, the exclusive JCB dealer Autodom Machinery KG company announced the opening of the first dealer center on the territory of the Kyrgyz Republic. The project was realized within the framework of the Kazakh-Kyrgyz cooperation of the companies Autodom Machinery KG (Kyrgyz Republic) and Orbis Machinery (Republic of Kazakhstan).
JCB dealer center presents the latest and the most high-tech samples of special equipment on the Kyrgyzstan market, where reliable and relatively inexpensive JCB equipment is in demand, primarily in the road construction and construction sectors, as well as in agriculture.
Product Line:
• Backhoe loaders
• Crawler excavators
• Wheeled excavators
• Telescopic loaders
• Front Wheel loaders
• Mini Excavators
• Mini-loaders with side turn
• Industrial Forklifts
• Sealing equipment
• Attachments
• Manual hydraulic tools
• Forklifts, extra-resistant
Autodom Machinery KG provides its clients with full support. The JCB center conducts pre-sale preparation of equipment, including setting up operating parameters using advanced diagnostic equipment.
The dealer center supports a one-year warranty from the manufacturer, excluding machine hours.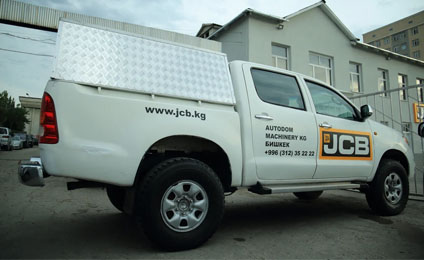 Contacts
Bishkek, Lev Tolstoy st., 126
0312352222
http://jcb.kg/
info@jcb.kg
After-sales service
In accordance with the manufacturer's regulations, we guarantee our customers the highest level of service support 24/7.
Our technical department is responsible for diagnostics and repair of special and lifting equipment. The availability of well-equipped service vehicles makes it possible to promptly transport mechanics anywhere in the Republic of Kyrgyzstan and carry out diagnostic and repair work at the location of the equipment without resorting to its evacuation.
All service specialists regularly undergo training and internships, have high qualifications and extensive experience in the field of service maintenance.